---



---




---



---



---

---



The focus of this tour is to have a peek in several of the antique and craft stores in the Rideau region. You will often find a better deal at antique shops located in rural communities than you will at stores in the city. Also, there are many artists and artisans living in the Rideau region, their wares are often for sale at the local craft stores, so be sure to drop in. One note is that several of the antique stores are closed on Monday, some are also closed on Sunday.

Kingston via Hwy. 15 north, to Cty. Rd. 33 to Lyndhurst - Leaving from City Hall, drive north down Ontario Street, over the bridge crossing the entrance to the Rideau Waterway, past Royal Military College and Old Fort Henry, and turn left at the lights (at the top of the hill) onto Highway 15. Take Highway 15 north to the Cty. Rd. 33 exit (on your right), and follow Cty. Rd. 33 into Lyndhurst. Our first stop will be at the Lyncreek Farm Antiques and Collectables located at 128 Jonas Street. Browse for furniture and early collectibles. For works by local artists stop by The Green Gecko at 436 Lyndhurst Rd.

Lyndhurst, north on Cty. Rd. 2 to Cty. Rd. 42, west on Cty. Rd. 42 to Philipsville, north on Cty. Rd. 42 to Cty. Rd. 8, turn left onto Cty. Rd. 8 to Elgin - In Elgin, stop in at Mainly Antiques, located on the south side of Main Street. They have a quite a variety of goods, from furniture to china.

Elgin via Hwy. 15 north to Crosby - At Crosby you have an option of heading about 5 km north to Portland to check out Bygone Days Antiques & Collectibles, located at 2781 Hwy. 15 on the lake side of the Highway in Portland, and Amy's Antiques & Fine Arts, located about 3 km north of Portland at 2827 Hwy. 15. After visiting these stores, head down Hwy. 15 back to Crosby.

Crosby via Cty. Rd. 42 to Westport - Entering Westport, turn right onto Rideau Street (towards the waterfront) and then left on Church Street. Keep your eye out for The Village Green, park anywhere nearby. Spend a bit of time in the Village Green. Feel free to ask for lunch recommendations. You may find it just as easy to leave your car and walk around the town, looking at all the little shops. Once you've had a bit to eat and are ready for more antiquing, places to look for are Little Village Antiques, located in the side garden at 28 George Street and Tobitiques and Treasures, located at 5349 Salem Road (Cty. Rd. 12, west of town).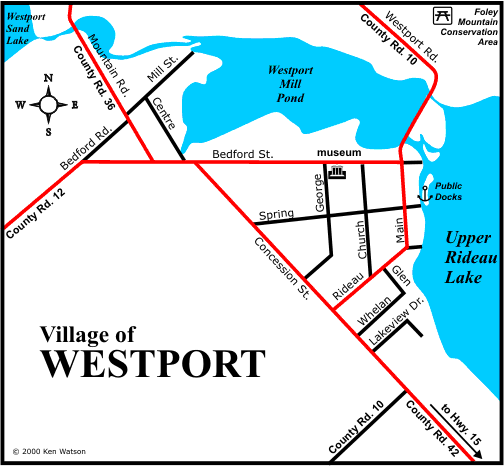 Westport via Cty. Rd. 10 south to Perth Road Village - Head south out of Westport and turn left (west) onto Cty. Rd. 10. This will take you south back towards Kingston. If you want to have a look at a spectacular home, about 8 km down the road turn right to Bedford Mills. The old mill building has been remodelled into a private home. They've done a magnificent job. Continuing south we come to Perth Road Village. Turn left (west) onto McFadden Rd., and about 3/4 of a kilometre down the road, you will come to Wilmerdale Antiques.

Perth Road Village via Cty. Rd. 10 to Missouri, west on Cty. Rd. 5 to Harrowsmith - Follow Cty. Rd. 10 south to Missouri and turn right (west) onto Cty. Rd. 5 to Harrowsmith. In Harrowsmith, located at 4942 County Road 38, is Spike's Corners Antiques and Collectibles. Note that they are closed on Wednesdays.

Harrowsmith via Cty. Rd. 38 to Kingston - You must be all shopped out by now. Head home via Cty. Rd. 38.

---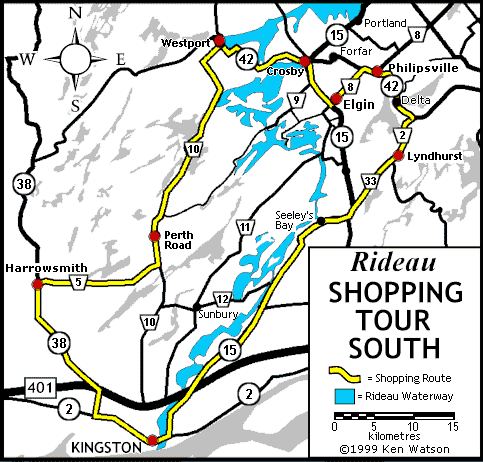 ---
Use the "print" button on your browser to print this page to your printer.



---

Comments: send me email: Ken Watson
URL: www.rideau-info.com/canal/driving/shopping-south.html
© 1999-2010 Ken W. Watson