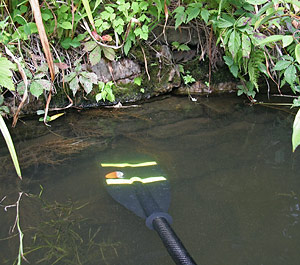 This is the location of Lock 5 of the First Tay Canal (also known as the "Jebb's Creek Lock" or "Dowson's Lock"). It is located at the confluence of Jebbs Creek and the Tay River. The current Tay Canal bypasses this old canal section on the east side with a dredged cut. Visible in the photo to the right is the original stonework of the lock.

Opened in 1834, the First Tay Canal fell into disrepair by the mid-1800s. In the late 1880s, another canal was built, this one with two locks leading to Beveridge Bay on Lower Rideau Lake. Since dredging technology was available at that time, this old lock was bypassed by dredging out a new deep channel (which is part of today's Tay Canal).

Visible below is the viewing platform (in the Perth Wildlife Reserve) overlooking the Tay Marsh. It's located just a few feet from old Lock 5 (which the person in the photo is standing adjacent to).