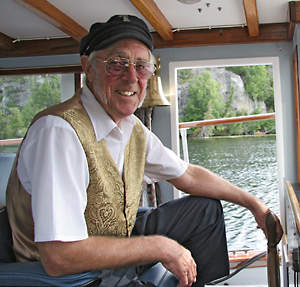 Lance Jervis-Read - or "Captain Lance" as he is better known - owns and operates the cruise boat "Chuckles." In the winter/spring of 2008, Lance, who is also a shipwright, converted this 1940 diesel engine cruiser to electric power. This mammoth undertaking was skillfully done by Lance and the boat, now powered by a silent electric engine, was ready in time for the 2008 season.

The batteries are charged by the solar panels on the roof of the cruiser and by plug-in power. In the event of low batteries, the electric engine can be run by a small diesel generator (Lance has thought through all contingencies).

Lance operates "Rideau Canal Boat Tours"
( www.rideauboattours.com ) from Chaffeys Lock, offering twice daily tours to Jones Falls, taking up to 12 passengers on a cruise of one of the most scenic sections of the Rideau Canal. If you're visiting the Rideau, take a cruise with Captain Lance. It's a unique Rideau experience. UPDATE: At the end of 2012, Captain Lance, frustrated with the government cuts of the Rideau Canal and lack of support of the canal by Parks Canada, left the Rideau to start a new tour out of Gananoque (where, unlike the Rideau, he was welcomed with open arms).