the completely unbiased opinions of Ken Watson


1) It's Interesting
The Rideau Canal Waterway is not a boring monochromatic landscape. It is made up of of varied naturescapes and landscapes. It is a blend of rivers, lakes and canal cuts (less than 10% of the waterway are canal structures). The central portion crossed part of the Canadian Shield with beautiful rock exposures and wind swept Pines. Landscapes vary from natural, to rural, to cottage, to urban, often within the space of a few kilometres. It's a significant part of Canada's history - you're travelling along an historic waterway (a World Heritage Site - the only one in Ontario). It's the only canal in the world with this blend of heritage and landscapes.

2) It's Easy
The Rideau offers easy flatwater paddling. If you're looking for bone crushing, fear inducing rapids, you're not going to find them on the Rideau. The Rideau can be paddled by the novice or expert and age is no barrier, the Rideau is paddled by young and old alike. Most lockstations offer camping in addition to several commercial campgrounds (or you can go the decadent route - see below). You can also avoid any heavy lifting by locking through the locks rather than portaging (it's easy to go through a lock in a canoe or kayak - in fact you owe to yourself to try this out with at least one lock - the friendly lock staff are always happy to help).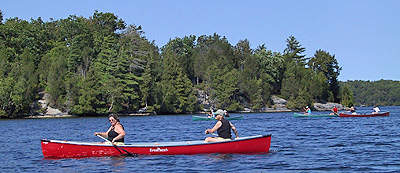 A group enjoys an "adventure paddle" on the Rideau

3) It's Safe
The only natural issues are the potential for waves on some of the larger open lakes and weather. With lots of islands and bays, a paddler can easily find shelter. The Rideau extends through the heart of Eastern Ontario with lots of cottages and residences, places to stop and get help in the event of an emergency. Cell phone coverage is pretty good along the length of the Rideau with only a few blank spots. Of course all normal boating safety precautions should be taken, see the Paddler's Trip Planner for more info.

4) It's Accessible
The Rideau is only a 3 hour drive from Toronto, only 2 hours from Montreal, only 1 hour from the U.S. For the paddler there are dozens of publicly accessible put-in or take-out spots along Rideau (listed in my Paddling Guides). These include the 24 lockstations (23 on the Rideau proper, 1 at the entrance to the Tay) spaced out along the route, dozens of launch ramps, several conservation areas and even two Provincial parks.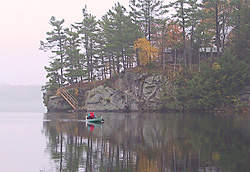 A misty morning paddle on the Rideau

5) It's Quiet
Even at the height of tourist season in July and August, the Rideau is never a busy place. Only at some of the more popular lockstations will you find boater congestion during some weekends. As a paddler, you'll be able to travel off the "beaten path" (which as noted, isn't that busy in any case), exploring all the nooks and crannies the Rideau has to offer (1,091 kilometres of shoreline).

6) It's Decadent
Don't want to "rough it", try a trip staying at local Inns and/or B&Bs rather than camping. Many of these are located close to the water. Still want to camp but aren't that into freeze dried food - treat yourself to a full dinner at The Hotel Kenney or The Opinicon while camping at the local lockstation. Grocery shops in the villages along the route allow the paddler to stock up on all sorts of goodies.

7) It's Photogenic
As a photographer I enjoy taking photographs during my trips. On the Rideau you're going to find lots of photo opportunities. There are the historic lockstations, lovely cottage & boathouse architecture, lots of wildlife opportunities (loons, deer, turtles, herons, ospreys, etc.), beautiful Canadian Shield viewscapes, historic villages and much more.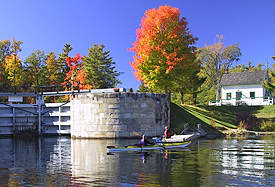 Kayaks heading off from Davis Lock

8) It's Historic
First opened in 1832, the Rideau Canal is the oldest continuously operated canal in North America. The lockstations haven't changed that much, most are still operated by hand just as they were in 1832. You're not only able to view a significant Canadian historic site, you'll be part of it (especially if you lock through a lock or three). Before it was a canal, much of the Rideau Waterway was a canoe route. Even after the canal was built, canoes were a significant form of transportation along the canal through the 1800s.

9) It's Friendly
The Rideau is a recreational waterway. It caters to the tourist. The people here enjoy visitors. The locks are operated by Parks Canada and the friendly lockstaff are more than willing to help the visitor.

10) It's Fun
Last but not least, paddling the Rideau is fun. Like to swim? With clean water and water temperatures above 20oC (68oF) from mid-June to early October there are hundreds of spots for a paddler to stop and enjoy a refreshing dip. Like ice cream? Stop at a local village or marina and treat yourself. Like shopping? The Rideau is home to dozens of artisans and artists, shops of all descriptions, antique stores and much more. Like to fish? The Rideau offers some of the best fishing in North America. Been through a lock? It's easy and fun to do in a canoe or kayak. Like to paddle? With 1091 kilometres (678 miles) of shoreline you could paddle for weeks and still not see all the Rideau has to offer.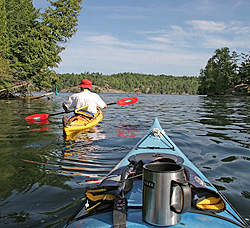 A morning paddle on the Rideau