You'll find several travel guides to the Rideau Canal. The most detailed are my full route and day paddling guides which include extensive paddling information, Points of Interest and detailed maps.
Watson's Paddling Guide to the Rideau Canal
(latest update: February 2023)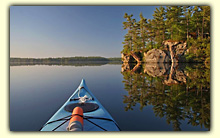 This is a 187 page detailed guide to paddling the Rideau Canal. It contains a description of the entire route with 18 detailed route maps, plus maps of every lockstation showing the portage routes, and dozens of Points of Interest from Kingston to Ottawa.

If you plan to paddle all or part of the Rideau Canal - this guide is for you. It is available as a free PDF download:



Watson's Paddling Guide to the Rideau Canal
The above is a link to 12 Mb PDF. Clicking this link will open the PDF. You should see a download icon (upper right) on the PDF page, but if not, click on the 3 dots in that area to bring up a menu that will include a download option.

If you have any trouble downloading the PDF, send me an email and I'll provide you with an alternate download site.
Trip Itineraries and Logistics

New for 2021 is an addition of suggested trip itineraries. This is a common question I receive emails about, but a difficult one to answer due to the many variables. This is in the above full guide, but I'll also include it here as a separate download:


Trip Itineraries and Logistics
Watson's Day/Weekend Paddling Guides
for the entire Rideau Canal


Each of these guides contains a 1:50,000 scale map (when printed at 8.5" x 11"). Adjacent maps overlap and so can be used for longer route paddling. The listing is sorted in geographic order, south to north.

Each listing also contains a link to a PDF file of the guide that can be downloaded and taken with you on your trip.

Note: Watson's Paddling Guide to the Rideau Canal (above) includes these 18 day/weekend guides.



Full Route Guides


Three full route guides provides information about travelling the entire length of the Rideau.



---




MacKay Guides


Don MacKay of Parks Canada has created some interesting guides to various sections of the Rideau.

---




Tay River Guide




---