Boater's Trip Planner


Planning your trip can be almost as much fun as taking the trip. Sitting down on a cold winter day, poring over the tourist literature, the maps, the charts, thinking about those lazy summer days cruising the Rideau. Accordingly, the first thing you want to do is to get all this stuff. This website contains a great deal of information, but you should also contact some of the agencies listed at the end of this web page.


---
Route Planning
Where do you wish to go? Some people do the entire Rideau, others just sections. The Rideau is 202 km long with over 1,100 km of shoreline, so there is lots to explore. It can be fun to plan a route and this website provides much of the resource material.

Where to go - the first stage of planning is usually to determine what section(s) of the Rideau you plan to visit. Are you trailering your boat here? (and so can put in anywhere on the Rideau) or coming by water? (access via Kingston or Ottawa). To find out what there is to see, you can use some of the resource material on this website. Some travel info, including a route description found in my Guide to the Rideau. You'll also find a great deal of information about what to see in my paddling guides - although designed for the paddler, much of the information, such as the maps and a description of points of interest will be of use to any boater. And you'll need the charts (1512 and 1513) for your trip (available for online ordering from World of Maps), you should get them in advance since they are very useful for route planning.

Timing - To do the entire Rideau in a power boat will take a minimum of 3 days (if you just go, go, go) or if you actually want to sightsee and relax, you should plan for at least 5 days, preferably allow yourself a week. A general rule of thumb is 30 minutes for each lock and an average speed of 10 kph (plus sightsee, swim, fish, visit, shop, etc time). The Rideau is 202 kilometres long with 45 locks if you don't visit Perth (2 more locks) - you can do the math for the section of the Rideau you wish to see.

Access - if you're coming by water then you're either entering the Rideau at Kingston Mills lockstation (from the St. Lawrence/Lake Ontario) or entering at Ottawa (from the Ottawa River). If you are trailering a boat, then you have multiple access points along the Rideau. There are many boat launches along the length of the Rideau, a listing can be found on my boat launch page. There are also many marinas, many offer ramp access (check first) - a listing can be found on my marinas page.



Watson's Paddling Guide to the Rideau Canal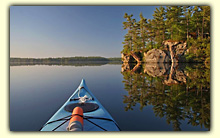 This is a 168 page detailed guide to paddling the Rideau Canal. It contains a description of the entire route with 18 detailed route maps, plus maps of every lockstation showing the portage routes, and dozens of Points of Interest from Kingston to Ottawa.

If you plan to paddle all or part of the Rideau Canal - this guide is for you. It's also a handy guide for power boaters. It is available as a free PDF download:



---
General Planning
I am assuming that you have a fully equipped boat and know how to use it. In addition I assume that you will bring along all the necessities of boating (bathing suits, suntan lotion, sunglasses, etc.). The Rideau is a recreational waterway and caters to the tourist. Much of the information below can be found in my Guide to the Rideau which you can print out and take with you on your trip. In terms of specific planning:

Groceries: There are grocery stores along the route in waterway towns such as Seeleys Bay, Westport, Portland, Smiths Falls, Merrickville and Manotick. For a listing of services each community offers, have a look at the various Town Maps. Current on-line maps (i.e. Google Maps) are very good at identifying grocery stores.

Ice: - for those who don't have a powered cooler/fridge, you can pick up ice at the towns listed above. In addition many marinas supply ice and a few of the lockstations also offer ice.

Fuel: There are many marinas along the Rideau, most offering gas, a few also offering diesel. A complete list of these can be found on the marinas page.

Pump-Out - many marinas also offer a pump-out service. See the marinas page for a listing.

Washrooms - for those without an on-board head, all the lockstations have public washrooms available as well as many of the marinas.

Dockage - between the marinas and the lockstations, there is lots of overnight docking available.

Camping - for those in boats without overnight facilities, tenting is available at local campgrounds (including 2 Provincial Parks) or at most of lockstations.

What to do - I actually get asked this question more that I think I should. It's probably because anytime I go out on the Rideau I'm always busy taking in the lovely scenery, exploring the rich history of the waterway, photographing local wildlife, stopping for a swim, enjoying a picnic or just generally having a great time relaxing on the open water. If you can do it in a boat (relax, sightsee, swim, ski, tube, fish, sunbathe, plane, putter, etc.) - you can do it on the Rideau. Those not completely into boats will appreciate being dropped off in places such as Newboro, Portland, Westport or Merrickville for a bit of shopping. For more ideas have a look at the attractions page.

For more information about taking a trip to the Rideau have a look at the Rideau FAQ (Frequently Asked Questions).

---
Boating Equipment
Your boat must carry mandatory safety equipment, which depends on the length of your boat. A listing of this equipment is detailed in the "Safe Boating Guide" put out by the Canadian Coast Guard. For an on-line listing of this equipment visit the Office of Boating Safety

In addition to the required safety equipment, it is advised that boats carry a full set of boat fenders (for both sides of the boat), two boat hooks, and at least two good quality ropes for securing the bow and stern of the boat to the canal drop cables (full locking through procedures can be found on the Boating Page). The ropes should be supple and about twenty feet in length. A good quality mooring line is best. In small boats, plastic/metal paddles with a hooked top make good substitute boat hooks.

A note for those really expensive bigger boats, where the hull gracefully flares up to the deck. A set of small fenders, that will hang from your hand rail down against the deckline of your boat, are recommended. The big fenders these boats carry are great for docking, but I've seen boats get scraped along the deck edge in a lock because the main fenders hung too low and their thickness when pressed against the hull doesn't extend past the deckline (so the deckline hit the lock wall before the fender did). From an audience perspective, it is fun to watch the panicked owners of that $450,000 boat trying to keep the boat pushed away from the lock wall using boat hooks, while at the same time holding it against the lock wall with mooring lines, while the Parks Canada staff rush to their rescue. Most boaters though don't really want to put on such a show.


---
Navigation and Safety
For safe navigation of the Rideau, you should have the Canadian hydrographic charts that cover the length of the waterway. These are Charts 1512 and 1513, both of which you can order on-line from World of Maps (www.worldofmaps.com ). Depending on where you are coming from, and where you plan to go, you many require other charts. A more complete list of maps and charts, including digital, can be found on the maps, maps, maps web page. For a complete listing of hydrographic charts, check out the Canadian Hydrographic Service Web Site.

The Canadian Hydrographic Service also produces a guide to the Rideau Canal titled "Sailing directions, Rideau Canal and Ottawa River" This is a available as a free PDF from the government. See this page: publications.gc.ca/site/eng/9.909435/publication.html. The PDF download is a bit hidden on that page, click here for the PDF (27 Mb) That is current as of December 2021 - if the PDF link doesn't work, then go to the publication's page which is supposed to be a permanent page with the current PDF (I only check this every few years - last check was in early 2023).

The Parks Canada publication Boating Safely contains information about navigation, locking instructions and more. You can download or view a PDF file of this pamphlet. Much of this information, including lock sizes, navigation channel size, available water depth, bridge clearances, and maximum vessel size is available on the Rideau Statistics Page.

A VHF radio is good thing to have. Weatheradio Canada broadcasts on VHF bands 162.400, 162.475 and 162.550 MHz. In addition, the Canadian Coast Guard monitors VHF Marine Channel 16 (156.8 MHz) on a 24 hour basis (safety and emergencies only). The Coast Guard monitors channel 22A (157.1 MHz) for regular calls. Most marinas monitor VHF channel 68 and most pleasure boats use channels 68 and 71.

Those with smartphones can call *16 to contact the nearest coast guard radio station or *OPP (*677) to contact the nearest Ontario Provincial Police communications centre. A smartphone can sometimes come in handy to call ahead to a lock to see what part of the cycle they are in. Visit the Rideau Canal Lockstation Numbers Page for a complete listing. Be aware that, depending on your provider, there are still a few "dead zones" on the Rideau.

Although not required, a depthfinder is a very handy thing to have, particularly if you like to wander off the beaten path. This little electronic device could save you from scraping off $1,000 worth of expensive gelcoat from your keel or putting a kink in that shiny new stainless steel prop.

Another handy device to have is a GPS (Global Positioning System) unit. It's not a required item on the Rideau because if you pay attention to the charts, it is very hard to get lost. However a GPS is handy so that you can immediately locate yourself at any given instance, or make quick note of the exact location of favourite spots (good mooring, swimming, fishing, etc.). In addition, if you are boating here from places like the St. Lawrence or Lake Ontario, then a GPS is a must have item. Have a look at the Rideau Canal GPS Waypoints Page for the GPS position of several of the lockstations.

With your smartphone then there are apps that can come in handy. For instance you can have the hydrographic charts on your phone (see the maps, maps, maps page) and various GPS apps can provide features found in dedicated GPS units. It is still highly recommended that you carry a set of paper charts (no batteries required) and you should ensure that the maps and GPS in your phone will work offline (for when you need them in a dead zone).


---
Reading Material
The tourist agencies will send you a selection of material based on your interests. However the boater should make sure that they specifically request the following publications to make sure they get them. The Parks Canada publications will always be available through the Rideau Canal Office.

Boating Safely, Trent-Severn Waterway -- Rideau Canal by Parks Canada
(you can also download or view a PDF file of this pamphlet - 986K)


Rideau Canal Brochure (writeup with map) by Parks Canada
(you can also download or view a PDF file of this brochure - 928K)


Vacation Travel Guide & Atlas by the Brockville Recorder and Times Ltd.


Kingston Tourist Literature (various brochures)


Ottawa Tourist Literature (various brochures)
You can also view or download various brochures in PDF file format by visiting my Document Centre.

In addition to the free stuff, it is well worth having a travel guide or two. In my opinion, no trip is complete without a couple of good books on the region to read. It is best to read these books as you drift along the Waterway, so that you can get a sense of the history and see first hand the places that are mentioned in the books. There are quite a few books to choose from. My personal favourite is A History of the Rideau Lockstations, a visitor's guide to the history of each of the Rideau lockstations (see the Books Page). I may be a little bias since I'm the author of that book. I don't make any money from it though, all proceeds from sales go to Friends of the Rideau.

During the summer, you can find a selection of Rideau books at Friends of the Rideau's outlet, The Depot, in Merrickville.


---
Contact Addresses and Phone Numbers
Parks Canada - Rideau Canal Office
34 Beckwith Street South
Smiths Falls, ON K7A 2A8
Tel: 613-283-5170
Toll Free: 1-888-773-8888
Fax: 613-283-0677
email: RideauCanal-info@pc.gc.ca
Website: www.pc.gc.ca/en/lhn-nhs/on/rideau
Friends of the Rideau
P.O. Box 1232, Stn. Main
Smiths Falls, ON K7A 5C7
email: info@rideaufriends.com
Website: www.rideaufriends.com
Ontario Ministry of Tourism
77 Bloor St. W, 6th Floor
Toronto, ON M7A 2R9
Tel: (416) 314-0944
Toll Free 1-800-668-2746 (English - Canada/USA/Hawaii)
Toll Free 1-800-268-3736 (en français)
Website: www.ontariotravel.net

Transport Canada
Office of Boating Safety
330 Sparks Street, 11th Floor
Ottawa, ON K1A 0N5
Tel: 613-990-3105
Fax: 613-996-8902
Toll Free 1-800-267-6687 (Safe Boating Hotline)
Office of Boating Safety: tc.canada.ca/BoatingSafety


Canada Customs Information Unit
P.O. Box 10, Station "A"
1 Front Street West
Toronto, ON M5W 1A3
Toll Free 1-800-461-9999
Fax: (416) 954-0787
Website: www.cbsa-asfc.gc.ca
Boating Ontario
15 Laurier Rd.,
Penetanguishene Ontario, L9M 1G8
Tel: (705) 549-1667
email: info@boatingontario.ca
Website: www.boatingontario.ca